Ayurvedic Massage Abyangam Training
Elemental Bodywork organise des formations de haut niveau dans le domaine du travail corporel par le Myofascial Energetic Release, l'abyangam Ayurvédique et la régulation émotion avec la méthode Tipi.
PROFESSIONAL TRAINING
ABYANGAM AYURVEDIC MASSAGE
September / November 2019
Certified "Abyangam Practitioner" by SAP Ayurveda (Italy) With Kandeepan Joythimayananda
Are you looking for quality professional training to become an Ayurvedic massage practitioner ? Are you already a massage practitioner, therapist or professional in well-being and you want to develop your activities and the offer made to your customers? You are in professional reconversion and want to direct you towards the manual therapies? Do you simply want to learn how to give Ayurvedic massages of quality to your surroundings ?
This training will allow you to learn in a professional way a massage protocol for each of the VATA, PITTA and KAPHA doshas: techniques of movements and use of the appropriate oils. Through 80 hours of theoretical classes and practical workshops, you will discover how to harmonize the doshas, eliminate toxins, create positive emotional circulation and elevate the spirit of the person being massaged.
At the end of the training, you will receive a certificate "Practitioner Abyangam" by SAP Ayurveda (Italy).
Kandeepan Joythimayananda has been teaching in Ayurveda and Abyangam for more than 25 years. Son of Swami Joythimayananda, he was born and raised in ashram. Since childhood, he has been receiving the family tradition of the art of massage. He graduated in Ayurveda from the University of Pune, India, and is an internationally recognized specialist in Ayurvedic therapy (Nidan Chikitsa) and herbal Ayurvedic remedies preparations based on the Ayurvedic tradition (Dravya Guna).
More information about the teacher:
Ayurvedic massage Abyangam
Abyangam or Ayurvedic massage is a therapeutic treatment from Ayurveda, "the knowledge of life", born in India at least 5000 years ago. In the Ayurvedic tradition, the practice of Abyangam is a fundamental element in maintaining or restoring an optimum state of health.
Ayurvedic massage, a holistic ancestral technique with multiple benefits
Abyangam acts on the physical, energetic, physiological and structural planes for:
- to harmonize the doshas (Vata, Pitta and Kapha) which are the biological principles of each human being and whose disharmony is at the origin of the disease and aging,
- eliminate toxins (ama),
- create a positive emotional flow,
- raise the spirit.
Ayurvedic massage is a treatment that works all over the body using various manual techniques, stimulations, manipulations by applying warm medicinal oils (Tailam), which is applied according to the constitution of the patient. The oils lubricate and strengthen the muscles and joints, fortifying and toning the tissues.
Through the action of the massage, the practitioner can interpret, receive and modify the messages coming from the body. It can help the person's system mass to slow the degenerative process, improve resistance to stress, calm the mind, strengthen the immune system and develop the power of self-healing of the body. This treatment can help to resolve the imbalances of insomnia, depression, fatigue, menstrual cycle, digestion, tension and contractions of the spine.
Course schedule and dates
The basic training takes place in 12 days divided into 4 modules from October to December 2019
******************************************************************
> October 24 to 27: Vatabyangam (4 days)
******************************************************************
> 21 to 24 November : Shirodhara (1 day) and Pittabyangam (3 days)
******************************************************************
> 5 to 8 December : Kaphabyangam (4 days)
******************************************************************
Programme 2020: Vatabyangam 24-27 september / Pittabyangam + Shiroshara 22-25 October / Kaphabyangam 3-6 December 2020.
Do you want to go further ?
In addition to this basic training, you will be able to join the complementary deepening modules. To access it, you must have completed the basic course in full. If you have been trained with another teacher in Abyangam, you can send us your training curriculum to submit to Kandeepan in order to eventually access these modules.
All modules of the 2019 Ayurvedic massage training will be held in Manaska in Montbrun-Bocage, 1 hour south of Toulouse at the gateway to Ariège. This magnificent ecolieu nestled in the heart of green hills, offers a large room of light practice all in wood.
For those who wish to stay on site throughout the duration of each course, varied sleeping options are available. Guests can choose to sleep in double or dormitory rooms.
The meals are vegetarian, fresh, organic and are prepared on site by the cook.
Training prices
Fondamental training
4 modules Vatabyangam (4 days), Pittabyagam (3 days), Shirodhara (1 day), Kaphabyangam (4 days ) :
1390 € before 15th july

1540 € after du 15th july
Complementary modules :
Marma Therapy (2 X 3 days): 960 €

Muri-Ottadam-Udvartana (4 days) : 520 €

Rates of the training
Accommodation and meals
Double room : 25€ / night

Dormitory of 5 people : 15€ / night

Lunch and dinner : 25€ / day

Lunch and drinks (for non résidentiels) 15€ / day

Breakfast : each student brings their own breakfasts
Payment facilities :
For payment facilities, please contact us to discuss and find a solution together.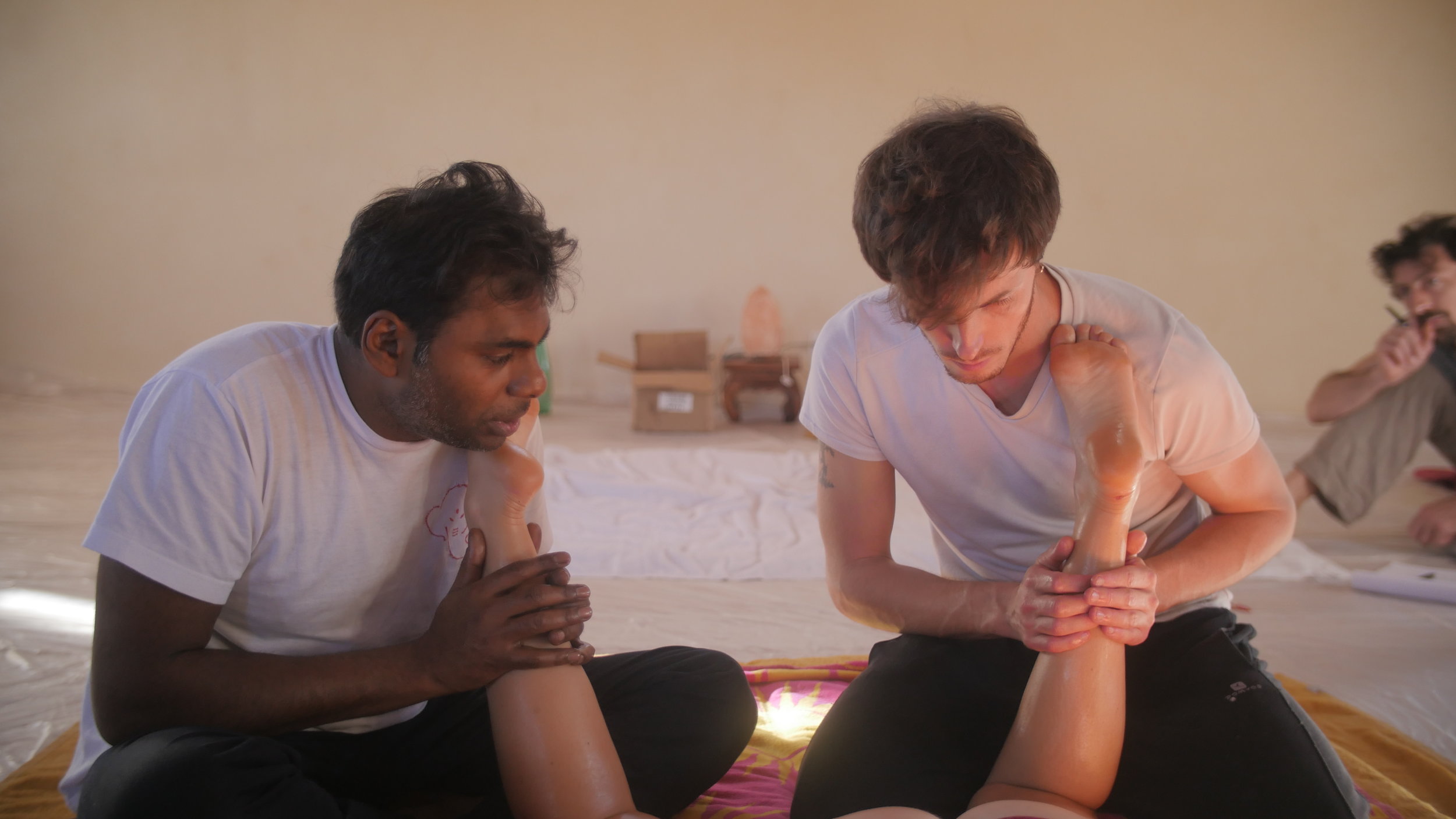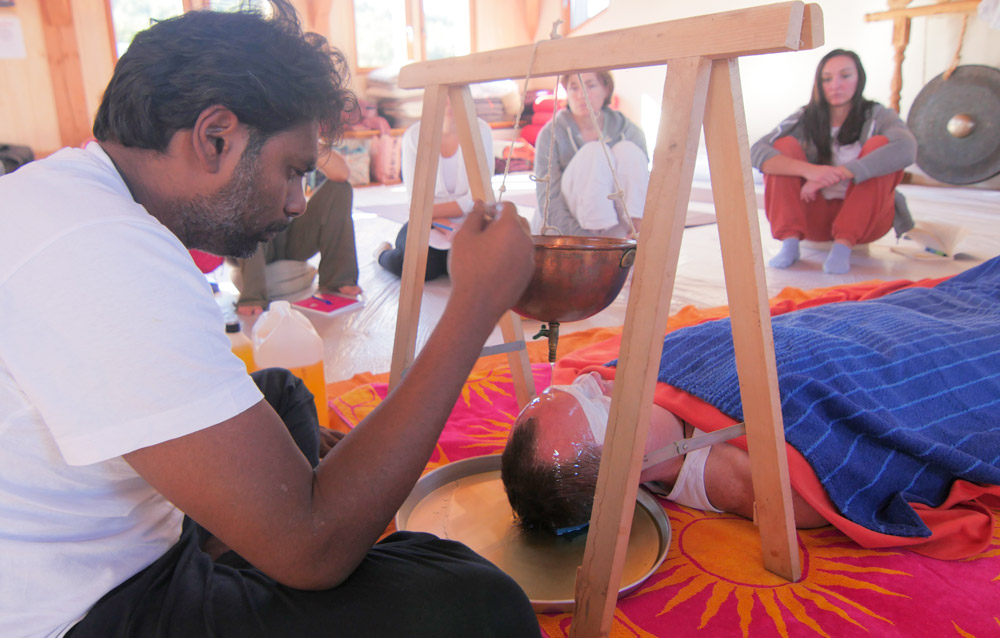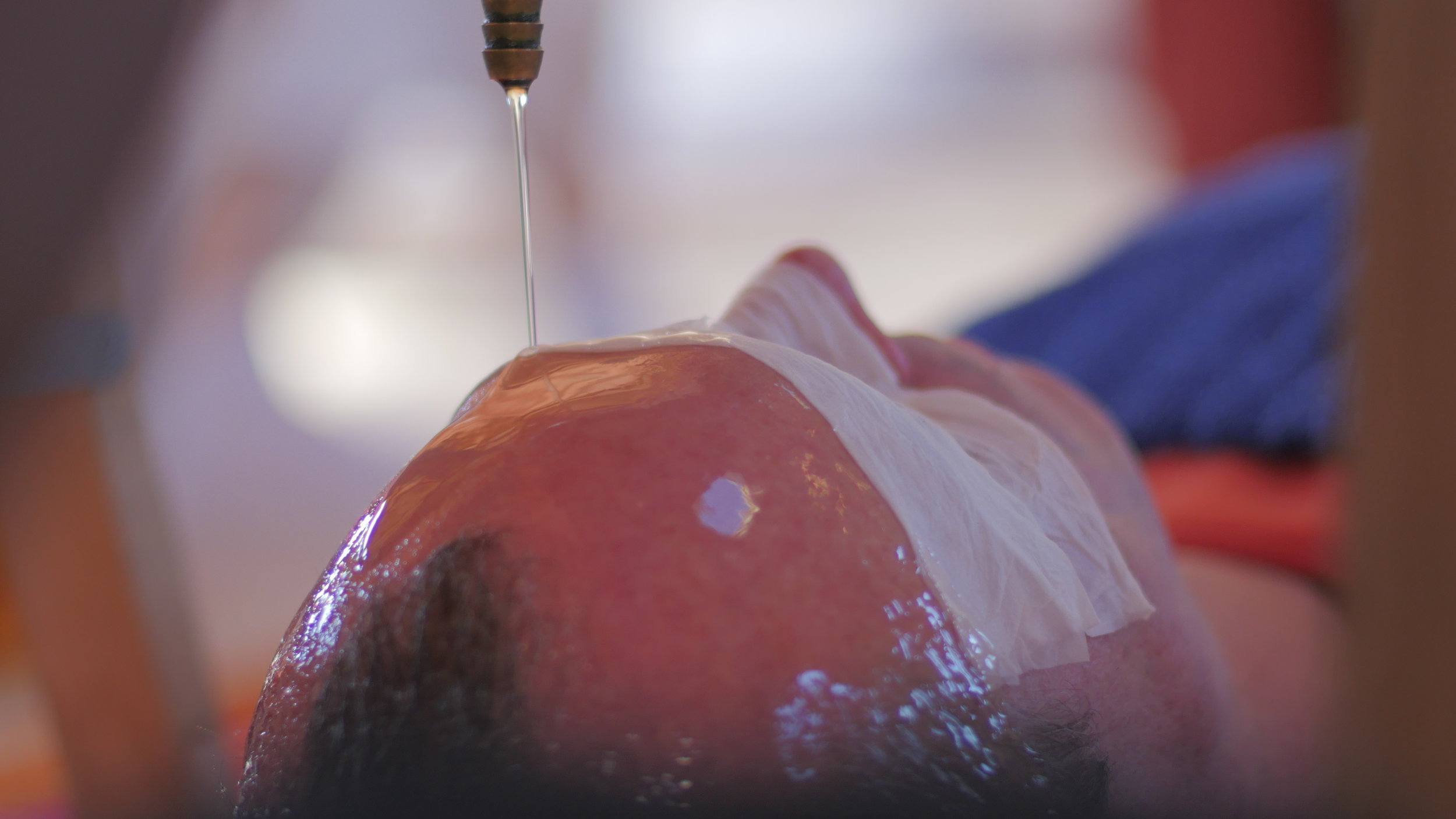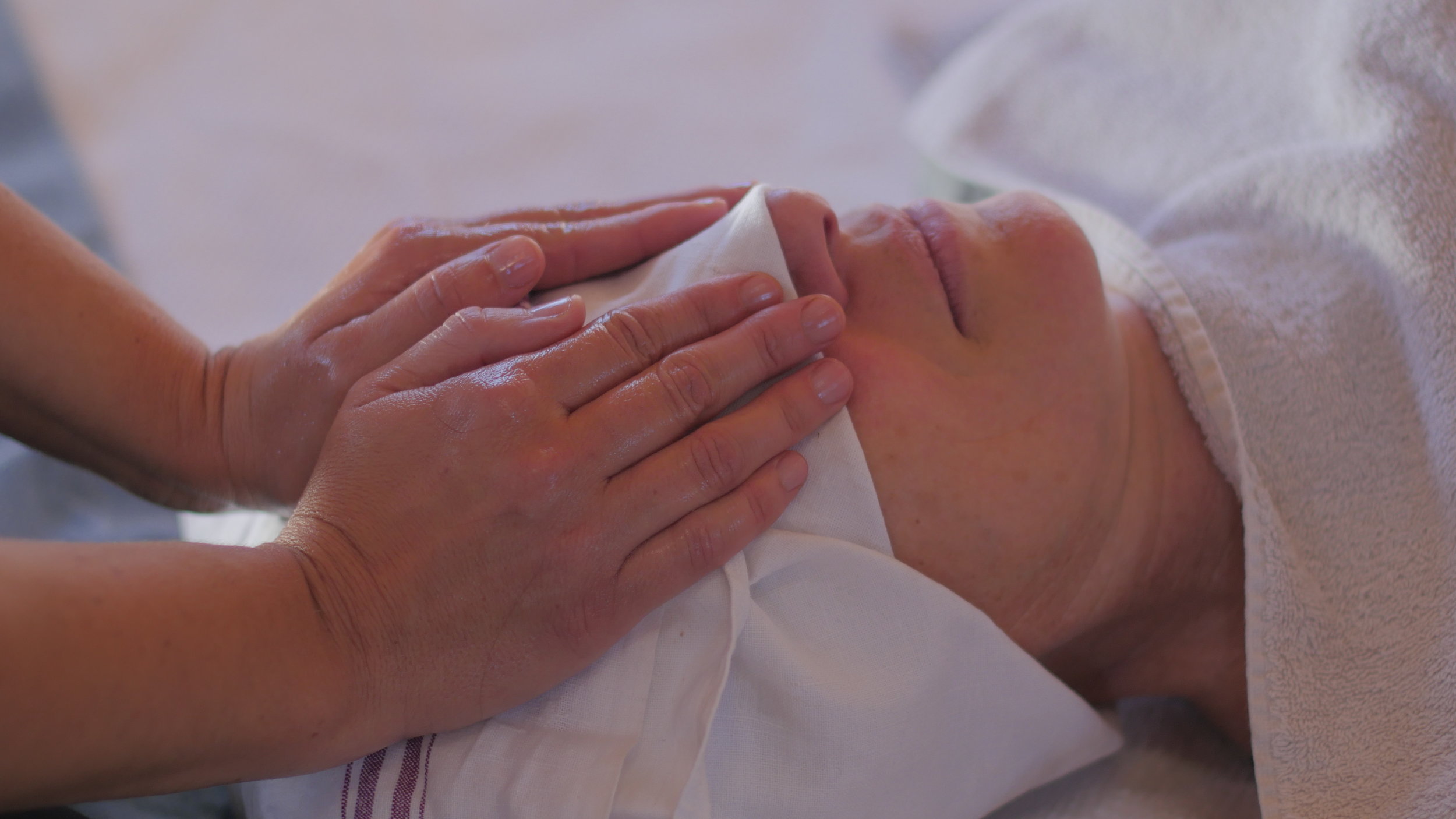 Other information about the training :
The training is taught in English translated into French.

Group of up to 20 students

Training certified by SAP Ayurveda (Italy).
To prepare the training:
We recommend some readings:
"Abyangam" by Swami Joythimayananda (Father of Kandeepan Joythimayananda).
"Prakriti" by Dr. Robert Svoboda (to understand Ayurvedic constitutions).
These books can be purchased online on the internet.
Would you like to know more or register for this training ?
Do not hesitate to contact us for any questions or special requests concerning this training. You can then register online by following the instructions on the registration page.